Sonja Weber
Riding in Collection for
Healthy Horses and Lightness
In german language!
The book vividly illustrates why collection is so crucial to the well-being of a ridden horse. It explains the factors essential to guiding the horse into the vertical: the collection and coordination of all physical as well as mental energy, mobilisation, correct position, balance, elasticity, the development of the shock-absorbing power of forehand and hindquarters as well as the stabilisation of the back.
The book includes a detailed critical analysis of the teachings of old masters and a stimulating discussion of modern scientific insights. The practical part of the book presents exercises essential to achieving collection. These are entirely different from the common practice of working the horse forwards-downwards, which fails to develop the horse's weight-carrying ability by emphasising its horizontal movement.
Only two weeks after it first appeared, the book reached the top of Amazon's bestseller list in the category "Horse & Rider"! Its enthusiastic readers have demanded that it become standard reading.
Kerstin Diacont, Sonja Weber
Classical Work in Hand for
Powerful and Healthy Horses
In german language!
This book explores the potential of the classical work in hand as a fundamental, exemplary tool in the schooling of the horse. The work in hand serves to collect the horse as well as to improve its strength and weight-carrying ability in order to keep it healthy under saddle.
Part 1 explains what collection means and introduces key principles in schooling horses. It also contains a critical discussion of the concept of working the horse forwards-downwards.
Part 2 illustrates how collection can be achieved through practical exercises. It proceeds from basic exercises with the cavesson and the snaffle, correct lateral movements, trot and canter on a small volte to achieve the 'school gaits', through to piaffe and Spanish walk.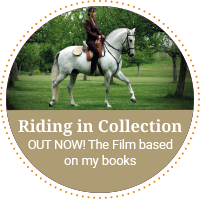 Overview of all publications
1996 Diploma in biology with a thesis on equine behaviour
Since 1997 Numerous articles about training horses and equine behaviour in magazines such as "Cavallo", "Dressur Studien", "Equus", "Feine Hilfen", "Levade", "Pegasus", "Piaffe", "ReitKultur" etc. and in the magazine of the Society for the Promotion of Research in Equestrian Sports ("Verein zur Förderung der Forschung im Pferdesport", FFP)
2013 Master's thesis about intuition
February 2018 Publication of the book "Classical Work in Hand"
February 2019 Publication of the book "Riding in Collection for Healthy Horses and Lightness", which immediately made it to the bestseller lists
June 2020 Release of the first four parts of the film series "Riding in Collection for Healthy Horses and Lightness", which viewers consider unique in terms of content, didactic technique and aesthetics. The practical parts 5–6 will be released shortly.